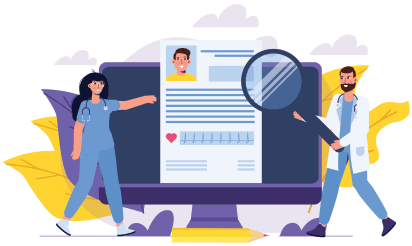 Managed IT Support
For Healthcare
Konica Minolta's complete solution combines industry-leading hardware, software and IT services to help healthcare facilities like yours reduce patient costs, increase patient security and maximize operational efficiencies.
Enhanced HIPAA Compliance

It's More Challenging Than Ever To Secure Patient Information

Hospitals contend with a continual barrage of issues on a daily basis — from technological changes to regulatory requirements and security breaches.

You can handle emergencies with your patients, but what about emergencies with your healthcare business? Konica Minolta can respond with solutions and services so you can return to handling your patients with the same high level of care that we'll give to you.

Have you taken our HIPAA Security quiz?
From Cybersecurity and Data Interoperability to Complete Digital Transformation
Digital transformation in healthcare is driving improved outcomes and enhanced delivery of care. However, challenges around security, interoperability, compliance and infrastructure management present persistent and costly hurdles for healthcare organizations endeavoring to comply with HIPAA, securely exchange patient information during care transitions and maintaining and securing IT systems.
Non-Compliance is Costly
$1.5m is the maximum penalty for each HIPAA violation
A priority for every healthcare professional is mitigating risk. Without the secure exchange of patient data, healthcare facilities are vulnerable to breaches which can expose patients' and employees' private data. High-profile data exposure damages the reputation of the practices, erodes public trust, and often results in legal & financial consequences. Our All Covered Healthcare compliance team can help you meet the security and compliance challenges of the modern world by collaborating with you on a comprehensive threat assessment to protect your data without straining your staff or your budget.
| HIPAA Assessment | Active Defense |
| --- | --- |
| ISO 27001 – 27002, NIST 800-53, NIST CSF | Expert Cyber Security team |
| Cybersecurity Capability Maturity Model (C2M2) | Real-time monitoring |
| PCI DSS and FFIEC | Five best-in-class security tools |